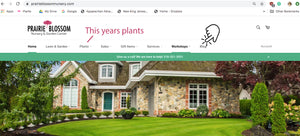 COVID-19 - What Prairie Blossom is Doing?
Just a little news on the Coronavirus COVID-19 pandemic and how we at Prairie Blossom plan to conduct business during the days ahead. 
As we navigate all the information coming our way, a few bright spots for our garden center customers have emerged.   In Europe where borders have been locked down and all but deemed essential business has been closed, garden centers that sell vegetables are encouraged to stay open.  Here at home, states like California and Pennsylvania are requiring all none essential businesses to close, but have deemed garden centers selling plants as essential and are allowed to remain open.  If conditions worsen here in our state, it is a good possibility that we will be able to remain open to provide vegetables, flowers, and other plants to our customers.
How this #COVID-19 pandemic plays out over the next few weeks is unknown, below are a few steps we are taking to ensure we will be able to supply our customers not only with vegetable plants for food but also flowers and others plants that can have such a calming and reassuring effect on our spirits. Currently, we are working to put all of our plants that will be available this season onto our website https://prairieblossomnursery.com/. There are many, but we hope to have this completed by April 1.  This will allow not only for our customers to preview what they will be seeing at the greenhouse, but to prepare a list of those must-have plants and flowers.  Online ordering will also be available with in-store pickup or curbside pickup for those requesting. If conditions worsen for our area this also maybe the most sensible approach for both our customers and employees. Beginning April 1, we will open 8:00 AM, one hour early, specifically to give our seniors (65 and above) and those with health complications time to shop in a less crowded environment.  We will limit the number of shoppers at any one time to 20 during that one hour time period. We make every effort to sanitize regularly all areas where the passing of the virus would be highest such as the registers, countertops, and credit card machines.  We will ask all to practice social distancing while in the greenhouse working to create a six-foot space between shoppers. We thank you all so much for your past support and even though these are trying times we will get through them together.
---